Get the App That's Like a Mechanic in Your Pocket
How confident are you that your mechanic or auto dealership is telling you the truth? Take the guesswork out of diagnosing your vehicle with the Automend Pro app. It's the quickest, easiest way to find out what's wrong with your vehicle. Get information you can trust with a simple tap on your smartphone screen!
The Automend Pro App
Makes Diagnosing Your Vehicle Easy
The best part about the Automend Pro app is that you don't have to know anything about cars to use it. With the app downloaded on your mobile device, all you have to do is start up your vehicle and any problem your car may have is broken down in plain English.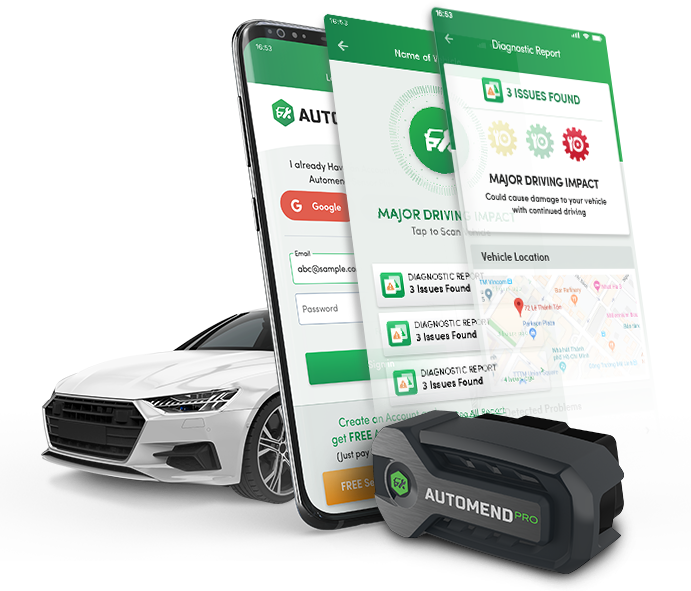 Discover the IssuesAutomend Pro presents the information you need in a clear, concise manner so you know exactly what the problem is. You'll have no difficulty explaining what needs to be repaired.
How Serious Is It?Not every mechanical issue is an emergency. The Automend Pro app identifies the severity of the issue and lets you know the consequences (if any) of delaying the repair.
Educate YourselfYour diagnostic report includes an advanced description of the problem detailing the specific components of your vehicle and what they do. You'll learn more about how your engine works and potentially save even more money.
Monitor All Your VehiclesKeep track of every issue. The app conveniently records the status of every vehicle you diagnose for ease of reference. Plus, it's compatible with iOS and Android, so you can be sure that you'll have all the information you need, anytime you need it.
Use Your Car's Data to Extend Its Life
The Automend Pro App gives you access to a number of handy features that can help you effectively maintain your vehicle, including:
Vehicle GPS tracking
Fuel efficiency and emissions reports
Access to Automend Pro blog and chat
Collision and airbag monitoring
Valet mode